Scaffolding Altrad plettac assco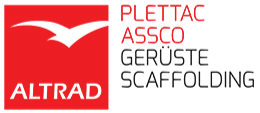 Whether you are engaged in the construction, restoration or perform repair work, it is difficult to do without the use of auxiliary structures like scaffolding.
Scaffolding is a temporary framework of poles and boards that is used as auxiliary means in the construction and repair of buildings, industrial and energy construction, civil works and restoration. Early scaffolding was made of wood and secured rope knots.
The modern scaffolding construction allows to be configured to any structural shape. You can combine different systems in one object form. The plettac assco scaffolding is very fast and flexible.
All steel parts are hot dipped galvanized. The design and surface makes the products very durable and long lasting.
Plettac assco scaffolding is adapted to shipyards, oil refineries and the chemical industry.
Plettac is proud to offer you the world's best manufacture of scaffolding
Plettac assco scaffolding systems
Video: Production of scaffolding ALTRAD plettac-assco.
New factory for the production of scaffolding ALTRAD plettac-assco