About us
Plettac was one of the first in Ukraine engaged in the supply and service of scaffolding of European quality. The history of Plettac began in 1997 when plettac assco scaffold systems were first supplied and assembled in Ukraine.
The real success came in less than 3 years, when our specialists have successfully implemented a project on the construction design of scaffolding to a height of 97 meters! No one has done this before us, and now it is unlikely that there will be an organization capable of repeating this.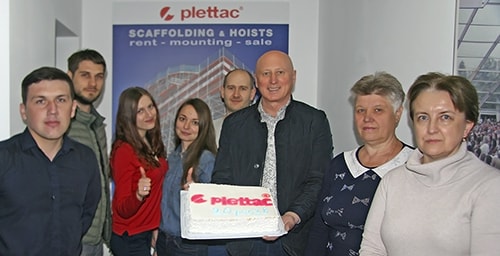 Over the past 20 years, the company has managed to build hundreds of projects and assembly more than 12 million square meters of scaffolding and even more to lease. Sold hundreds of tons of different types of scaffolding.
We list some of the most significant projects: the Kiev-Pechersk Lavra, Lviv National Opera, Mandarin Plaza, the central railway station in Kiev, St. Vladimir's Cathedral in Chersones, Magellan on the Towers, the Arcade bank, the 100 meter high skyscraper in Timofeeva Street, the Cathedral St. Nicholas on Bekhterevsky Lane, Megamax on Shulyavka, Mormon Temple on Okruzhnaya, Renaissance Hotel, Trade Union House on Maydan, TSUM on Khreshchatyk.
In the future, Plettac has mastered the delivery of scanclimber hoists and other manufacturers from Europe. And began to provide comprehensive services for the rental, installation and repair of mast lifts of different types. Today we can be proud of our successes. Here are some of them: Ocean Plaza, Trade Union House, Sport Hotel, Ministry of Infrastructure, Kiev Pechersk Lavra, German Embassy.
Customers who buy or rent scaffolds and hoists in Plettac, in most cases, are satisfied with the quality of services. This is indicated by the fact that most of our customers have become regular customers for many years. But in the collective of Plettac the spirit of striving for even greater achievements always lives. To this end, our staff is continuously working on solutions to ensure the safety of people working at height. This is facilitated by regular trainings and specialized courses that confirm the high professional skills of our employees.
Board and staff is one team that works in close cooperation. This is confirmed by the high motivation of the staff, which is the reason for the steady growth of Plettac in the Ukrainian market. The firm is constantly working to improve the skills of its employees, who ensure its development.
---
In order to evaluate the seriousness of our proposals, we suggest familiarize yourself with the photo gallery of our most interesting projects.