Partners
ALTRAD plettac assco GmbH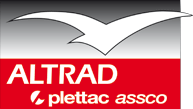 Scaffolding systems from Germany
Innovative technologies and the continuous development of the facade, modular and mobile scaffolding systems are the basis of the work carried out ALTRAD Plettac assco GmbH. We offer secure and flexible scaffolding systems can satisfy all your needs. Security systems plettac assco forests - a vocation ALTRAD.
We suggest you use the latest developments ALTRAD Plettac assco, make sure that you are using genuine products from Germany.
ALTRAD plettac assco GmbH
Postfach 52 42
58829 Plettenberg
Telefon: +49 (0) 2391 / 815-01
Telefax: +49 (0) 2391 / 815-376
E-Mail: info(at)plettac-assco.de
---
SCANCLIMBER GROUP

Development and supply of mast type lifts for different types of work at height:
- Lifting work platforms used in the construction and restoration work on the buildings, cladding tiles, brick masonry, plaster and insulation and installing the panels.
- Freight and passenger hoists for vertical movement of passengers and goods at construction and industrial sites.
FINLAND - Head office
Scanclimber Oy
Turkkirata 26
FI-33960 PIRKKALA, FINLAND
T +358 10 680 7000
F +358 10 680 7033
E-Mail: marketing(at)scanclimber.com

POLAND - Manufacturing unit
Scanclimber S.p. z o.o.
Ul. Surowieckiego 9
PL 62-200 GNIEZNO, POLAND
T +48 61 4262551
F +48 61 4263852
---
Тent plettac LLC
Sale and rent of tent constructuions:
- Pavilions
- Tents
Sadova 28 Str., building 20
GC "Berkovets-1"
04128 Kyiv
Ukraine
Теl./Fax: +380 44 3649334
E-Mail: info(at)tent-plettac.com