Offer
special proposal for the 20th anniversary of the firm PLETTAC
do not miss your chance to make profitable investments
---
of the world's leading manufacturer ALTRAD plettac assco, Germany

20% discount on the price of the plant - is from a warehouse in Kiev!
... taking into account the cost of shipping and customs ...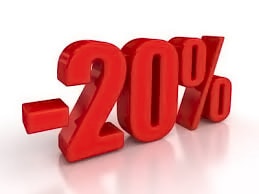 Теl./Fax: +380 (44) 364 9304, 3649305

E-Mail: info(at)plettac-assco.com.ua
Sell ​​Construction mast lifts to move goods and people, as well as elevating work platforms for facade work. All lifts have to "experience." Year of each lift and the main technical characteristics are listed in the table.
The equipment is operating satisfactorily with the estimate. Each lift passes pre-training and performance testing of all its mechanisms.
Do not miss your chance to get a lift from the best European manufacturers at prices affordable for small and medium-sized businesses.


HOIST FOR PASSENGERS AND MATERIALS SC8P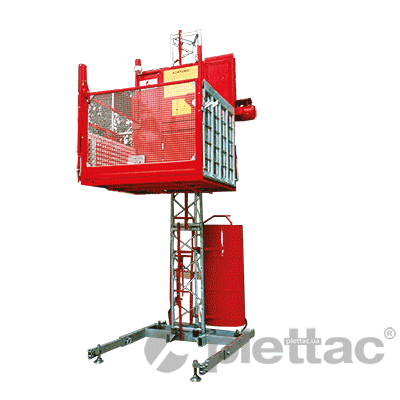 | | |
| --- | --- |
| Loading capacity | 850 kg |
| Lifting speed | 12/24 m/min |
| Max height with mast anchored | 100 m |
| Maximum freestanding height | 2 m |
| Platform dimensions L-W | 1,4 х 1,7 m |
| | |
| Year of release | 2018 |
| Height | 100 m |
buy info(at)plettac-assco.com.ua
---
HOIST FOR PASSENGERS AND MATERIALS SC20P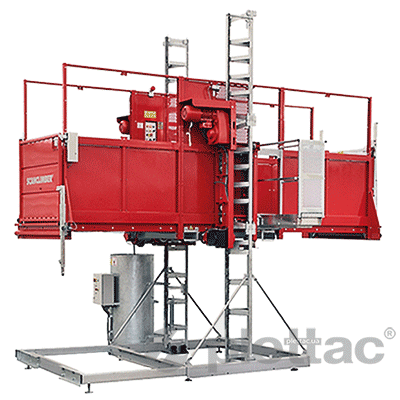 | | |
| --- | --- |
| Loading capacity | 2000 kg |
| Lifting speed | 12/24 m/min |
| Max height with mast anchored | 100 m |
| Maximum freestanding height | 4 m |
| Platform dimensions L-W | 1.4 х 5.1 m |
| | |
| Year of release | 2018 |
| Height | 100 m |
buy info(at)plettac-assco.com.ua
---
MAST CLIMBING WORK PLATFORM SC1300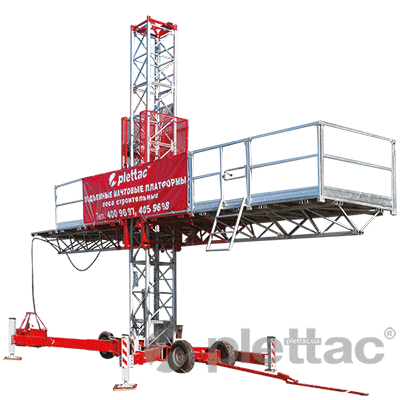 | | |
| --- | --- |
| Loading capacity | 1300 kg |
| Lifting speed | 6 m/min |
| Max height with mast anchored | 100 m |
| Maximum freestanding height | 20 m |
| Platform dimensions L-W | 4,2 х 1,6 m |
| | |
| Year of release | 2004 |
| Height | 20 m |
buy info(at)plettac-assco.com.ua
---
MAST CLIMBING WORK PLATFORM SC4000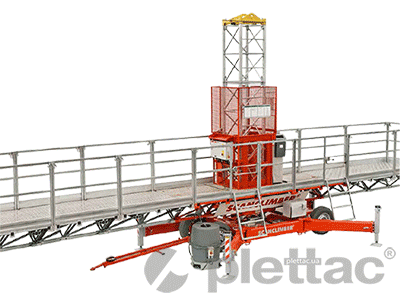 | | |
| --- | --- |
| Loading capacity | 2000 kg |
| Lifting speed | 6 m/min |
| Max height with mast anchored | 300 m |
| Maximum freestanding height | 20 m |
| Platform dimensions L-W | 4,2 х 1,6 m |
| | |
| Year of release | 2006 |
| Height | 30 m |
buy info(at)plettac-assco.com.ua
---
HOIST FOR PASSENGERS AND MATERIALS 1500Z/ZP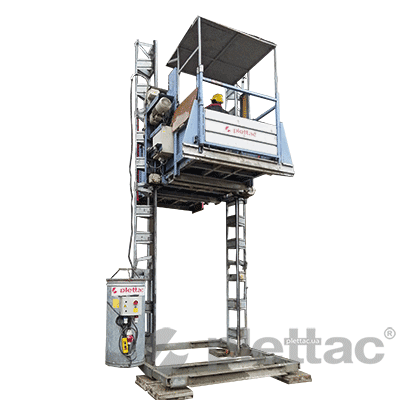 | | |
| --- | --- |
| Loading capacity | 1500 kg |
| Lifting speed | 12/24 m/min |
| Max height with mast anchored | 100 m |
| Maximum freestanding height | |
| Platform dimensions L-W | 3,3 х 1,45 m |
| | |
| Year of release | 2003 |
| Height | 90 m |
buy info(at)plettac-assco.com.ua
---
HOIST FOR PASSENGERS AND MATERIALS MT1500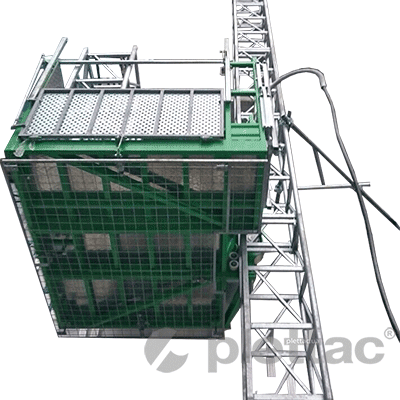 | | |
| --- | --- |
| Loading capacity | 1500 kg |
| Lifting speed | 12/24 m/min |
| Max height with mast anchored | 120 m |
| Maximum freestanding height | |
| Platform dimensions L-W | 2,2 х 1,3 m |
| | |
| Year of release | 2008 |
| Height | 68 m |
buy info(at)plettac-assco.com.ua
---
HOIST FOR MATERIALS PT2000TD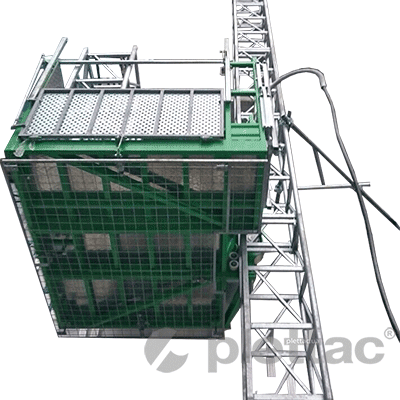 | | |
| --- | --- |
| Loading capacity | 2000 kg |
| Lifting speed | 12/24 m/min |
| Max height with mast anchored | 100 m |
| Maximum freestanding height | |
| Platform dimensions L-W | 3,2 х 1,5 m |
| | |
| Year of release | 2017 |
| Height | 100 m |
buy info(at)plettac-assco.com.ua
---
duration of action is limited. Do not miss your chance to make a profitable investment
Теl./Fax: +380 (44) 3649304, 3649305
E-Mail: info(at)plettac-assco.com.ua