Fencing systems
We offer a complete line of high quality Heras fencing systems. Heras is an international manufacturer in the field of total outdoor security solutions. A combination of electronic and mechanical systems allows to offer different security solutions, that are based on individual customer requirements.
Gates and fences Heras Adronit provide the best solutions for the protection of land.
Corrosion protection
All steel fence elements are hot-dip galvanized after cutting and welding in the galvanizing bath. This provides a long-term corrosion protection and guarantees the highest quality.
After powder coating the surface has excellent adhesion resistance, sun resistance (your fence keeps the same color for years to come).
Heras panels are powder coated after being hot dipped galvanized after cutting and welding too. You can be sure that you will get a quality and professional fence. All of your investments are completely justified.
Certificate of official dealer from HERAS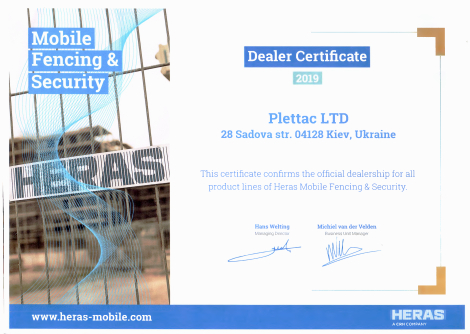 Video: corporate video HERAS.